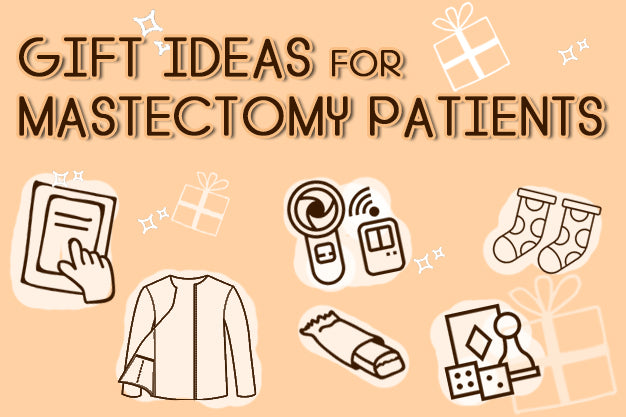 Someone close to you just went through a Mastectomy—your mum, sister, friend, family member or a neighbor who lives a few blocks down the street. You may want to share a special gift, but can't come up with a great idea. Below are a few ideas to get you going.
Gifts ideas for a Mastectomy Patient
Practical items:
Handheld battery operated fan
Water spray
Hand sanitizer and wet wipes
Lip balm
A tray with a bean bag base for use in bed
Plastic ice lolly molds
Notepad and pen
An iPad cushion
Mugs and cups
Homemade gifts
A jar of jam
Meals, fruits and flowers
Granola
Homemade lemonade
Healthy snack bars
Throat Lozenges
Luxury items/ Special treats
Soft pillowcases
A lovely journal or notebook to pour out her thoughts/take to appointments.
A soft jumper
A microwaveable wheat bag
Soft blanket
Luxurious slippers
Fluffy socks or slippers
Soft shawls or scarves
A hot water bottle and softcover
Mastectomy gift bag
Water infuser
A Kindle, Nook or other eReader or tablet
Distractions and things to keep her busy
Coloring books, pens/pencils
Puzzle books
Reading books.
Mini/travel board games
Amazon or Netflix Prime subscription, or DVD box sets
Cookbooks, for example, Royal Marsden Cancer Cookbook
Notepad and pen
How you deliver it is important as well
Whether you buy or make a gift, either way, it will be well received. Trust me, it's the thought that counts.
Its important to text or call beforehand so that the patient has the option of scheduling receiving you if they are up to it. If not you may want to arrange delivery. Collection 2019 Sale 70% Off Title for image